Highly-regarded as one of the most physically challenging sports, it is important to stretch before your triathlon training or competitive event.
Preparing for swimming, cycling and running is made easier by breathing properly and doing the best stretches for optimum flexibility.
What to Wear
The first activity is swimming so you need to ensure you can fully stretch in your wetsuit. When choosing your gear, look for a suit with multi-stretch arms and shoulders as this will aid manoeuvrability in the water. There are various brands to choose from including Aqua, 2XU, Zone3, Speedo and the popular Orca range which you can buy from Activinstinct.com.
How to Stretch
The following positions should be held for up to 45 seconds.
1.    Global Stretch
This all-over stretch will prepare your body for an intensive front crawl workout. Make sure you twist your body as comfortably as possible then repeat on the opposite side. Aiding mobility, this stretch will awaken muscles which are usually tight and unused on a non-training day.
2.    Calf Stretch
Your leg muscles are the first to feel the pressure during a triathlon so you need to take extra care when warming up. Preparing your calf and Achilles tendon for physical activity will reduce the threat of cramp while you swim, cycle and run. Push back against the wall until you feel the stretch down the back of your leg.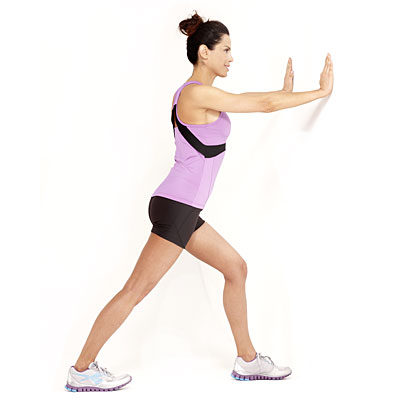 3.    Hamstring Stretch
As well as improving posture, hamstring stretches are mainly performed before cycling exercise. Flexing this muscle will give your knee additional flexibility and allow you to better control the knee extension as your pedals rotate. If you can't reach your toe, start at the knee and work your hands down towards your ankle as far as you can, then hold and switch to the other leg.
4.    Thigh Stretch
The main movements you will make during the cycling section of your triathlon are driving your leg down and backwards. Stretching your thigh will prepare your leg muscles for this rigorous, repeated activity and will make the running section easier too. Once in this position, twist from the hip upwards, hold and then switch sides.
5.    Hip Stretch
Finally, a hip stretch will ensure your torso muscles are ready for the run. The hip muscle aids posture as well as performance during a race so flexibility is essential. A wide range of movement will result in a smoother cycling movement and running technique. Once in this position, make sure you push your hips forward until you feel the stretch on your abs, sides and top of your thighs.
Would you ever enter a Triathlon?!